10K Run
You don't care about rankings? Do you still want to take part in a great running event? Then the Mytho 10k Run is the right competition for you!
About ten kilometres to share with family, friends and organised groups, running through the wonderful surroundings of Aquileia and Fiumicello! An event open to people of all ages that aims at social inclusion and sports education, walking, marching, running all in company and donating part of the registration fee to one of the various non-profit associations that are part of our Charity Program!
The route

Sei pronto ad immergerti nella storia? Il nuovissimo percorso di Mytho 10k Run ti porta a scoprire ogni singolo angolo di Aquileia facendoti fare un vero e proprio viaggio nella città romana per eccellenza! Punto di partenza e di arrivo è la meravigliosa Piazza Capitolo dove dove potrai ammirare la maestosa Basilica di Santa Maria Assunta, il battistero e la colonna con il leone marciano. Pochi chilometri di cammino e ti ritroverai a percorrere la suggestiva via Sacra fino a raggiungere l'affascinante Porto Fluviale nel quale in epoca Romana approdavano imbarcazioni  provenienti da tutto il Mediterraneo. Il percorso prosegue poi verso nord dove ammirerai il Museo Paleocristiano prima di inoltrarti nella rigogliosa campagna di Fiumicello. E infine? Infine, entrerai nel Comune di Aquileia passando nuovamente per il Porto e per il magnifico Foro Romano fino ad arrivare in Piazza Capitolo ai piedi dell'imponente Basilica Patriarcale.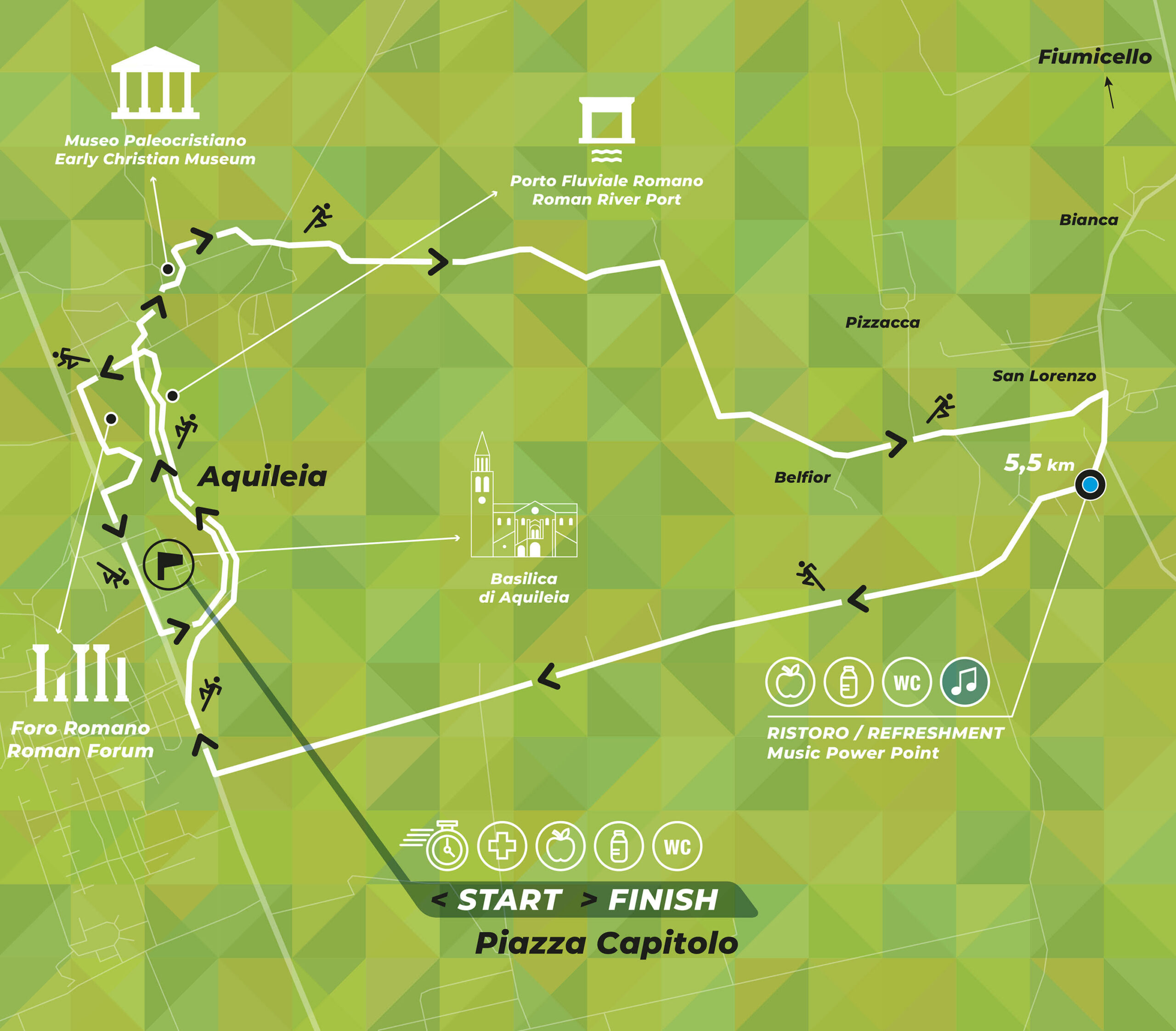 Titolo
Testo